Russian Cuisine – Тема Русская Кухня
16.07.2019

Posted by:

Ксения

Category:

Разговорный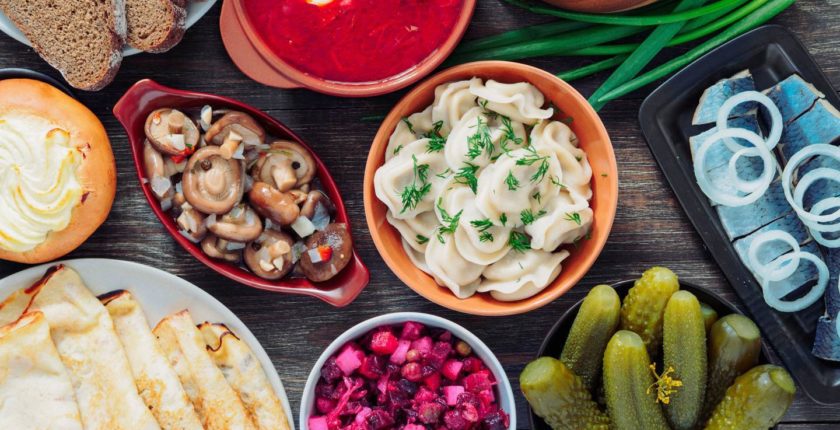 Russia is the largest country in the world. Many nationalities live here. So that Russia may boast of the variety of national dishes. I consider the ration to be the healthiest one as it contains soups, porridges, vegetables, fruit and different kinds of meat and fish. In contrast to other cuisines, the portions are medium or large size. There are non-alcohol and alcohol beverages.
As you know, people used to live near the forests and rivers, so they got used to feed themselves with what can be caught in the water or gathered and shot in the forest. Mostly, traditional dishes saved this tradition and are cooked of mushroom, fish, vegetables, herbs and berries. Generous hostess served rassolnik, ukha, okroshka and adopted from Ukraine borsch. The second course is porridge or potato with meat or fish.
You definitely heard the sayings: "Bread I the stuff of life" and "No such thing as brown bread". They show attitude of Russian people to the bread. It is always in the centre of the table where everyone can take it. In the past, people baked bread of rye flour. Now, there is wheat bread, bran bread, buckwheat bread and so on. Apart from bread, people enjoy pastry – kalach (a kind of fancy loaf), salty and sweet pies, blini (pancakes), pirogi, wheat cakes and baked nuts.
Traditional drinks are represented by berry and milk kissel. However, this drink didn't used to be sweet at all. It was made of oat, pea meal and rye flour. The Russians also like kvas, beer, homemade liquors and mead. And don't forget about tea. The ceremony of drinking tea can compete with English 5 o'clock tea and Chinese tea ceremony. It was always a shining samovar with a tea pot on the table. Black tea was poured into beautiful cups and then decanted into the saucer to cool faster. It goes without saying that tea with bublicks (soft ring-shaped bread rolls) tastes better.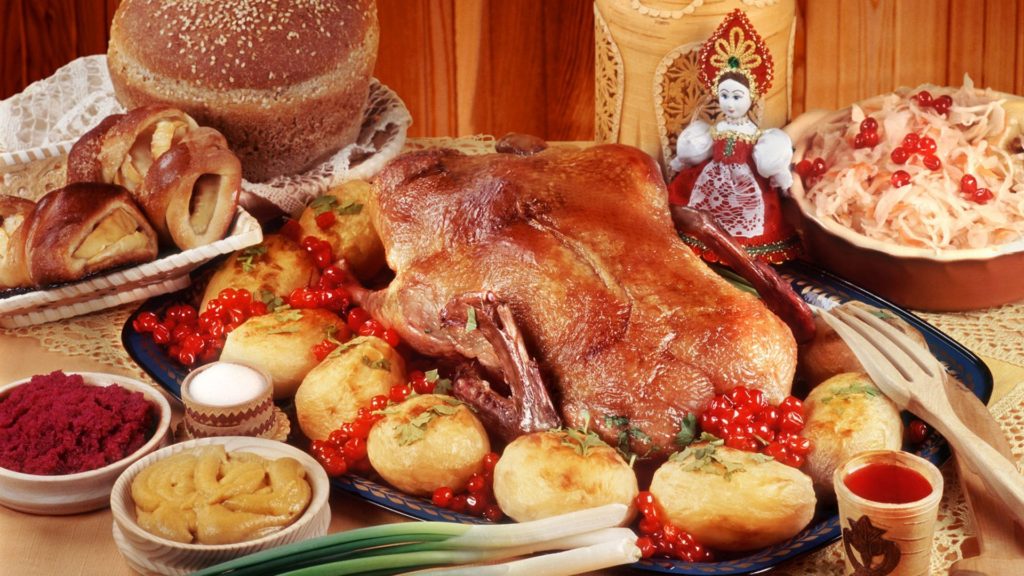 Useful words
boast –  похвастаться
cuisines – кухни мира
non—alcohol and alcohol beverages – безалкогольные и алкогольные напитки
herbs – травы
berries – ягоды
generous hostess – хлебосольная (щедрая) хозяйка
Bread I the stuff of life – Хлеб всему голова
No such thing as brown bread – Нет ничего важнее черного хлеба
rye flour – ржаная мука
wheat bread, bran bread, buckwheat bread – пшеничный хлеб, хлеб с отрубями, гречневый хлеб
pastry — выпечка
wheat cakes — оладьи
oat — овсянка
saucer — блюдце